19th May (half day) 2023, 10am to 1pm
Online and in person in Frome (max 3 participants in person + 3 people online)
Why is it the shoulders can get so stuck?
Ed will share techniques on how to improve use of your shoulders, to reduce pain and to improve everyday activities (like reaching, lifting) and for sports activities such as tennis and swimming.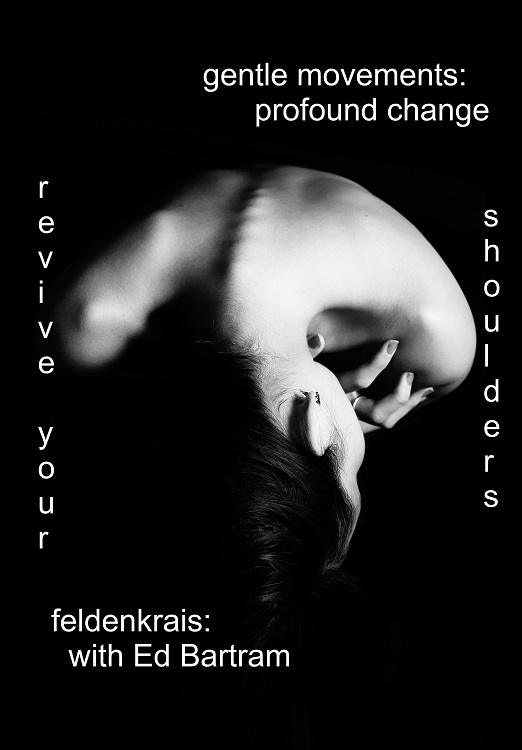 Cost of Workshop:
'Early bird' rate £32 (booking by 10th May 2023), otherwise £40
Time:
9.30am to 1pm
Location
79 Nunney Road, Frome, BA11 4LF / on Zoom.
Booking or more info:
Contact [email protected] / 07969 748974


The Shoulders…a few more thoughts:

So why is it they cause such a particular challenge for the modern human?

The shoulders are the joint which provide for the greatest range of movement in the skeleton.  There is so much possible that can happen, I guess there is more to go wrong.  And in that complexity, it can be confusing how they work.  Aligning self-image (how we sense ourselves), with how we actually are, is key to the method.  And that confusion can therefore cause difficulties. 

I find it fascinating, somehow, that the shoulder blades have no skeletal connection to the back of us, the shoulder girdle only being connected by bone at the front of us.  Likewise the size of the blades is perhaps surprising – a triangular shape as long as our hand from the tip of middle finger to the wrist.    Once the mechanics of the joints become clearer in our understanding, that's a big start towards improving their use.

The shoulder girdle also straddles a particularly 'busy' bit of the skeleton, at the intersection of the arms, spine, and close to the sternum.  It's a bit like the M25, perhaps, so much traffic at any time, that there always a risk of overload, and blockage.

Finally, with our affection for chairs, digital tech and our modern lives, we are somehow inclined to round the shoulders – and forget they don't have to be like that.  Rounding the shoulders is very important sometimes – rest, defence etc, etc – but not all the time.
Student responses to Ed's previous sessions:
I absolutely loved my Getting back to Running workshop with Ed today. My balance has been off for some time and with knee and foot injuries I wasn't sure how much I would get out of it, particularly as the session was remote. A couple of hours and tens of infinitesimal, pleasurable movements later, the distribution of weight in my body had completely shifted and both legs and feet were firmly planted on the ground – magic! Not only did I feel invigorated but Ed has inspired me with his knowledge, sensitivity and optimism. An all round treat. Very highly recommended. Debi A
Ed made a real difference to my life. My family and friends all noticed that over time I was beginning to walk with ease and there was no hesitation when getting up from a chair, small things which make a huge difference. I am very grateful to Ed for his focussed and practical approach in helping me to improve my movement, it has really worked! Brigid MacNeely
Ed is as intelligent, good-humoured and sensitive a teacher as you'd hope for for this subtle discipline. After the first of his classes I attended – mostly consisting of minute shoulder movements – I felt grounded, present, free of tension and mentally clear and my breathing was freed up. At the risk of gushing, it was sort of miraculous. John Moseley